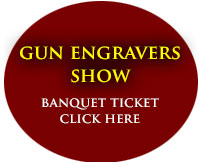 January 21-24, 2016 at the Westgate Hotel Las Vegas!
Firearms Engravers Guild of America 2016 Gun Show Schedule

Thurs. Jan 21

12-6pm Exhibitor packet pickup at front registration desk
8-10 am FEGA BOD meeting
7pm Exhibitor set-up

Fri. Jan 22

Show opens to Exhibitors 8-6 public 9-5 (Honored guests 8am)
11:00am FEGA Master Engraver Judging
12:00 FEGA Awards Judging
6-10pm Members welcome reception

Sat. Jan 23

7-9am FEGA Annual Meeting
Show opens to Exhibitors 8-6 Public 9-5 (Honored guests 8am)
American Engravers III book signing 2pm-4pm
6pm Annual Banquet & Auction

Sun. Jan 24

7-9am FEGA BOD meeting
Show opens to Exhibitors 8-6 Public 9-2pm
2pm Exhibitor take down

Mon. Jan 25

Free Seminars 8am
12-1 Break for Lunch
1pm- onward- show & tell sessions

Our room block code will be announced in a few weeks, it is important to book through the roomblock,
As it gives us more wait with the hotel when they can see the numbers, so please use it when available.

The 35th anniversary Gun Engravers Show 2016 will make this the best year for FEGA yet, and I will-

See you in LAS VEGAS !!!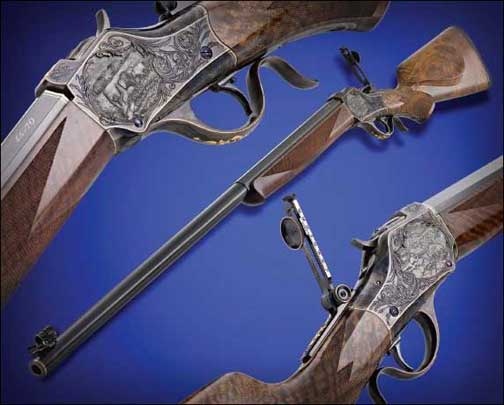 2014 Auction Gun
Auctioned at the FEGA banquet on saturday night, 1/18/2014

A classic Steve Heilmann Winchester Highwall 1885 action
with a twenty-nine inch, half round, and half octagon barrel.
Fully engraved with a classic Western theme and gold inlay.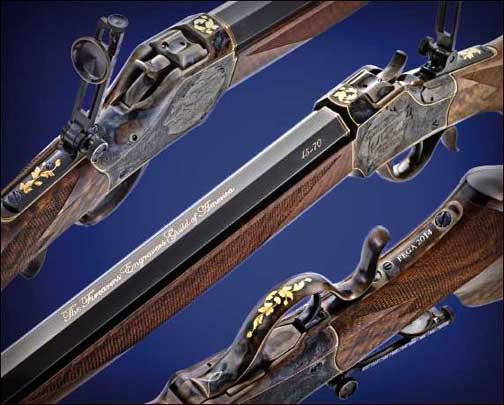 The Artisans who donated their valuable time and skill to create the 2014 Auction Gun:
Steve Heilmann, Metalwork. Gary Goudy, Stockwork. Ron Smith, general layout and design of the action engraving. Sam Welch, Gold line work on action. Mike Dubber, 24k gold barrel lettering, tang lettering and breech bands
Bob Strosin, screws. Jim Blair, scrollwork. Lee Griffith, right side action scene. Weldon Lister, left side action scene. Barry Lee Hands, 24k gold highlights. Doug Turnbull, case color, rust blue, char blue and finishing.